Spaghetti InExtremo
2022-12-21
Nur Speck und Knoblauch in den Taschen. A meal inspired by the German band InExtremo.
Table of Contents
Nur Speck und Knoblauch in den Taschen.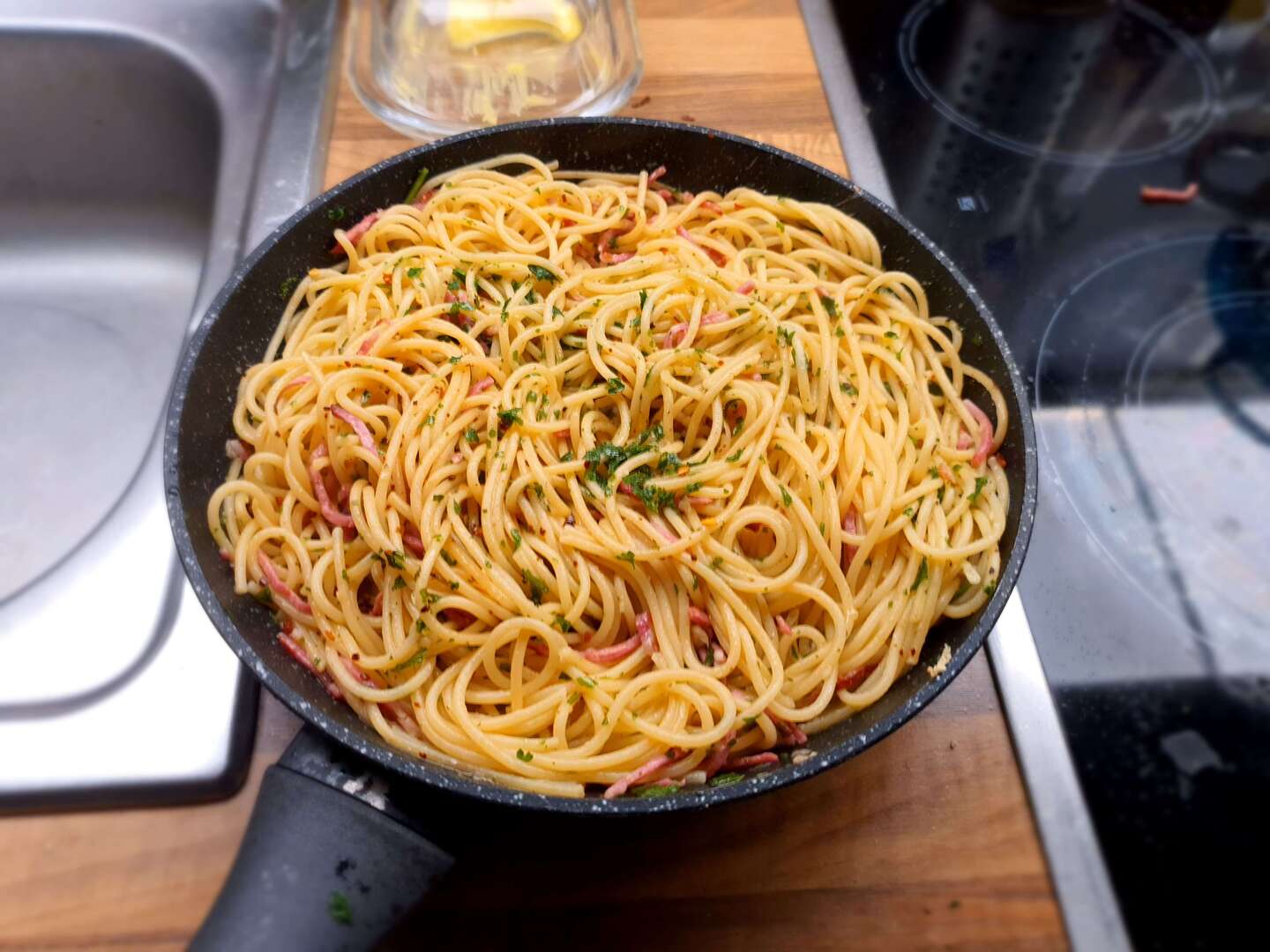 A meal inspired by Song Roter Stern by the German band In Extremo. It's a derivative of the classic Aglio e Oglio for those who have some belly pork over and want to cook something quick, but tasty.
Ingredients
Spaghetti (about 100 to 150gr per Person)
Bacon Strips or Bacon Bits
Parsley
Olive Oil
Garlic Cloves (to your liking, usually one or two is a good choice)
Salt
Preparations
If not done already, cut bacon into small pegs or bits
Peel garlic clove(s)
Chop parsley into fine pieces
Steps
Boil water in a large pot
Add a good bunch of salt and spaghetti to it
Heat up a pan and brown the bacon
Remove the bacon from the pan, but keep the melted fat inside, turn heat down
When the spaghetti are nearly done, take a cup of the spaghetti water out of your pot
Drain the spaghetti into a colander and put the spaghetti into the pan
Add olive oil and some spoons of the spaghetti water to the pan
Sprinkle the roasted bacon and the parsley over the spaghetti
Mix well
Heat it up again, but don't let it burn
Serve!
Side Dishes
This dish can be served as a side dish, but usually has no own side dishes. But don't forget your Parmesan!